Productos
Venus GPS Logger with SMA Connector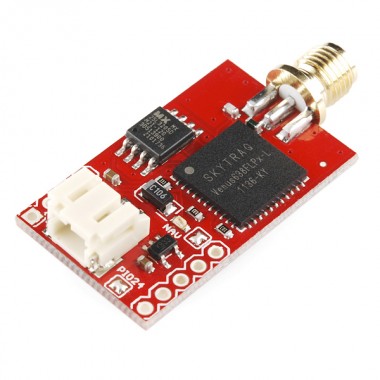 Módulo receptor GPS con sensibilidad mejorada y actualización de 20 Hz, con protocolo de salida NMEA-0183.
COD: SFGPS10920
Peso: 0.005 Kg
Disponibilidad: Sin Stock

ARS 22968.00
El producto no está disponible para la venta en este momento
Características
The smallest, most powerful, and most versatile GPS receiver we carry just got more powerful.The Venus638FLPx is the successor to the Venus634LPx and has improved sensitivity and a faster update rate. The new module can be configured to an amazingly powerful 20Hz update rate. With 29mA operating current and high sensitivity, this receiver seriously opens new doors for tracking. Module outputs the standard NMEA-0183 or SkyTraq Binary sentences at a default rate of 9600bps (adjustable to 115200bps).
The Venus638FLPx has improved sensitivity, an integrated LNA (with multipath detection and suppression), built-in RTC, and integrated single power supply making it very simple to use.
Features:
20Hz Update rate
-148dBm cold start sensitivity
-165dBm tracking sensitivity
29 second cold start TTFF
3.5 second TTFF with AGPS
1 second hot start
2.5m accuracy
Multipath detection and suppression
Jamming detection and mitigation
SBAS (WAAS / EGNOS) support
67mW full power navigation
Works directly with active or passive antenna
Supports external SPI flash memory data logging
IC 32M Serial Flash Memory
Complete receiver in 10mm x 10mm x 1.3mm size
Contains LNA, SAW Filter, TCXO, RTC Xtal, LDO
Can be powered by a 3.7V LiPo battery (or any 3.5 - 12V supply) through the JST connector or 3.3V regulated supply.
Dimensions: 1.25 x 0.75 inches
Mode information: