Productos
C1 3.2 inch Touchscreen Display Shield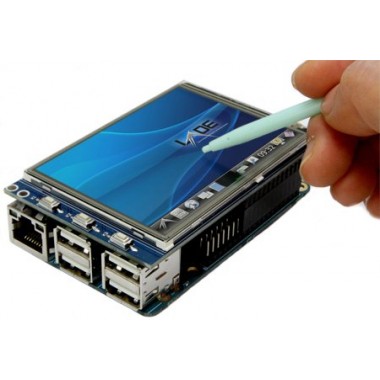 Display Touch 320x240 de 3.2", usado en las placas ODROID-XU4 / XU3 / XU3-Lite.
COD: OD0092
Peso: 0.044 Kg
Disponibilidad: En Stock

ARS 11460.00
El producto no está disponible para la venta en este momento
Características
Fully assembled 3.2 inch 320x240 display with resistive touch overlay. Simply plug it into the SBC's 26-pin or 40-pin header. Leaves 14 pins unused on 40-pin header. 2x13 female header already soldered onto the PCB.
This display should also work on the ODROID-XU4 / XU3 / XU3-Lite when using the XU4 Shifter Shield.
Fast 30MHz SPI is used for improved frame rate.
Ubuntu kernel add-ons to support this display can be easily downloaded to add software support for this display to your C1. Super-easy installation script developed by ameriDroid is now available for Ubuntu on C1 (see INSTALLATION below). Automatic installation script may or may not work on other SBCs and OS distributions.
Only the official Lubuntu image is supported for configuration. Android OS is not supported at this time, and will most likely not be supported due to incompatibility issues with Android.
KEY FEATURES
3.2 inch display with resolution of 320x240 pixels
Resistive touch overlay
Fully assembled
Converter PCB board includes 3 buttons
2x13 female header
Touchscreen stylus (not required for use)
Supports official Lubuntu OS image on ODROID-C1, and similar images on other SBCs.
NOTES
GPU/VPU hardware acceleration requiring OpenGL-ES and video playback are not supported - To playback video on this screen, the file has to be transcoded to 320x240 with FFMPEG software decoding.
Not compatible with Android.
May be compatible with the ODROID-XU4 + XU4 Shifter Shield(not yet tested).
INSTALLATION
(Tested on ODROID-C1)
Disconnect the C1 from power and HDMI and connect the screen to the C1's GPIO header.
Boot the C1 and expand root partition (if not already done) using ODROID-Utility.
Connect your C1 to the Internet.
Download and prepare the installer
Open a console window (uxterm, xterm, or similar) and type:sudo su
Enter your superuser password (default password is odroid) and type: wget http://respectech.com/odroid/c1-touch.sh
Type: chmod 755 c1-touch.sh
Type: ./c1-touch.sh
Type "a" and press ENTER to run all steps automatically.
If you haven't run apt-get dist-upgrade recently, go make yourself a cup of tea because it takes a little while update your entire OS. Once the C1 reboots after the installation process, your C1's touchscreen will automatically be activated and will boot into the desktop.
SPECIFICATIONS
LCD Type - TFT
LCD Interface - SPI
Touch Screen - Resistive
Touch Screen Controller - XPT2046 (SPI)
Colors - 65536 (16bit RGB-565)
Backlight - LED
Resolution - 320x240 pixels
Aspect Ratio - 4:3
Weight - 44g
INCLUDES
Fully assembled 3.2 inch touchscreen
Stylus
LINKS