Productos
DSO138 Digital Oscilloscope DIY kit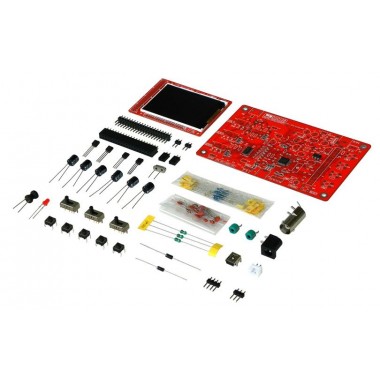 Kit para armar tu propio Osciloscopio! Basado en un ARM Cortex-M3. SE ENTREGA LA PLACA Y LOS COMPONENTES SUELTOS (los componentes SMD vienen presoldados).
COD: EAKA01381A
Peso: 0.143 Kg
Disponibilidad: Sin Stock

ARS 7710.00
El producto no está disponible para la venta en este momento
Características
DSO138 was designed as a training oscilloscope kit. Simplicity in structure and easiness in assembly/operation are the main targets of its design. For these purposes, DSO138 applies mostly through-hole parts and the heart of DSO138 is a Cortex-M3 ARM processor (STM32F103C8) from ST. It also uses 2.4-inch TFT LCD (320 X 240 dotmatrix, 262K colors) as its display element that will display nice clear waveforms. Detailed assembly instructions are provided in combination with troubleshooting guide and schematic.
This DSO138 kit has all SMD parts pre-soldered. The MCU has been pre-programmed and no re-programming required.
Specification
Number of Channel: 1
Analog Bandwidth: 0 - 200KHz
Sensitivity: 10mV/Div - 5V/Div
Sensitivity error: < 5%
Resolution: 12-bit
Maximum Input voltage: 50Vpk
Coupling: DC, AC, GND
Max Real-time Sampling Rate: 1Msps
Timebase: 10us/Div - 500s/Div
Record Length: 1024
Trigger Modes: Auto, Normal, Single
Trigger Types: Rising/falling edge
Trigger Position: 1/2 of buffer size fixed
2.4-inch color TFT LCD with 320 x 240 resolution
9V DC (8 - 12V acceptable)
Supply Current: 120mA
Dimension: 117mm X 76mm X 15mm
Weight: 70 gram (not including cables)
Package list
DSO138 Digital Oscilloscope DIY kit x1
Comentarios
Escribir Comentario
OpenHacks
(03/11/2016 - 10:39)
Hola Luis, haremos un pedido en breve. Cuántas unidades queres? Saludos!
Luis
(03/11/2016 - 01:43)
hola, cuando tendran en stock? se hace algun descuento si compro varias unidades? desde ya muchas gracias