Productos
Rainbowduino LED driver platform - Atmega 328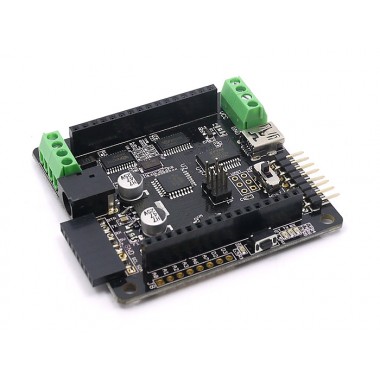 Placa compatible con Arduino para control de LEDs RGB: matriz 8X8 o cubo 4x4x4.
COD: SE102010006
Peso: 0.024 Kg
Disponibilidad: En Stock

ARS 6878.00
El producto no está disponible para la venta en este momento
Características
The Rainbowduino board (V3.0) is an Arduino compatible controller board with professional multiplexed LED driver. It can drive a 8x8 RGB Led Matrix or a 4x4x4 RGB LED Cube in common Anode mode. Rainbowduino v3.0 uses two MY9221 chips which is a 12-channels (R/G/B x 4) constant current Adaptive Pulse Density Modulation(APDM). Rainbowduino v3.0 has provisions for cascading more such boards with I2C interface.
Rainbowduino v3.0 is flashed with Arduino boot-loader and this makes it easy to program sketches using Arduino IDE. Unlike other LED drivers, this comes with a USB to UART (FT232RL) inbuilt for programming the sketches.
Features
Provides 2 x 16 pin header for connecting multiplexed LEDs

Constant current(20.8mA) LEDs driver.

Can drive 4x4x4 RGB LED Cube or 8x8 RGB LED Matrix (i.e 192 LED)

Built in USB to UART chip (FT232RL)

Built in 5V / 1 Ampere voltage regulator

Can be driven directly via USB cable (No external power adapter needed)