Productos
Freaduino MP3 Music Shield SHDMP3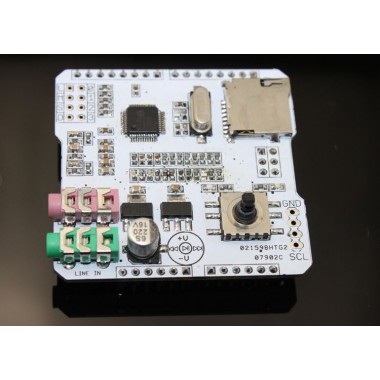 Shield reproductor de MP3, con zócalo SD y Joystick.
COD: EF02013
Peso: 0.030 Kg
Disponibilidad: En Stock

ARS 7453.00
El producto no está disponible para la venta en este momento
Características
The Freaduino MP3 music player shield is based on VS1053b IC. The VS1053b chip can be used to decode MP3/WAV/MIDI/Ogg/Vorbis format audio file. The MP3 music player shield has SD card socket and a 4 direction Joystick w/ multifunction switch support Vol-/Vol+/Next/Previous/Pause. Its can play a variety of music formats stored on MicroSD cards with Arduino Library.
Its also support
I2C LCD
display. You can easily use it with our library.
Note :Recording is only supported on Freaduino Mega and Arduino Mega for now.

Features
Arduino/Freaduino, Arduino Mega, and Freaduino Mega compatible
2 control-push buttons and 1 knob switch
Plays music from micro SD cards Decodes:MP3,WAV,MIDI,Ogg Vorbis
I2S interface for external DAC
Headphone/Line Out for playback
Line In for recording in OGG format
Excellent sound quality with +-1dB Frequency Response
FCC verification

Please visit our wiki page for more info about this product. It will be appreciated if you can help us improve the document, add more demo code or tutorials.