Productos
Mini Metal Speaker w/ Wires - 8 ohm 0.5W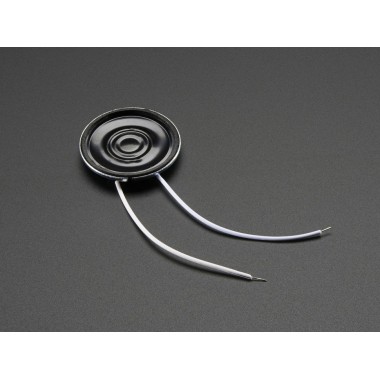 Añadí audio a tu proyecto con este mini parlante de 0.5W, 8 ohms!
COD: D001890
Peso: 0.006 Kg
Disponibilidad: Sin Stock

ARS 948.00
El producto no está disponible para la venta en este momento
Características
DESCRIPTION
Listen up! This tiny 1" diameter speaker cone is the perfect addition to any small audio project where you need an 8 Ω impedance and will be using 0.5W or less of power. We particularly like this cone as it's very simple and its metal body is extremely lightweight.

Works great with our Wave shield or class D amplifier board. Just be careful not to overdrive it if you're using the class D amp breakouts as it can put 1.7W into the speaker, blowing it out! Start with lower volume and increase carefully.

TECHNICAL DETAILS
Dimensions:
Diameter: 28mm / 1.1"
Circumference: 88mm / 3.5"
Weight: 6g
Specifications:
Resonance Frequency (FO): 680 ±20% Hz at 1V
Rated Impedance: 8 ±20% Ω (at 1KHz)
Frequency Range: ~600-10KHz
Rated Input Power: 0.25W
Max Input Power: 0.5W
Temperature Range: -20ºC ~ 55ºC