Productos
LinkIt Smart 7688 Duo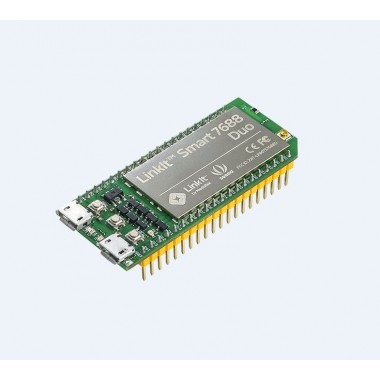 Placa de desarrollo orientada a Internet de las Cosas con WiFi, Ethernet y micro SD. Permite realizar procesamiento de vídeo, programar en Python, Node.js y C.
COD: SE102110017
Peso: 0.010 Kg
Disponibilidad: Sin Stock

ARS 14481.00
El producto no está disponible para la venta en este momento
Características
The Linklt Smart 7688 development platform offers two developments boards:
What is LinkIt Smart 7688 Duo
LinkIt Smart 7688 Duo is an open development board compatible with Arduino Yún sketches, based on the OpenWrt Linux distribution, MT7688 and ATmega32u4. The board is designed especially to enable the prototyping of Rich IoT Application for smart house or office. Since it is compatible with Arduino, this allows you to use different features from Arduino Yún and LinkIt Smart 7688 Duo, which will help you build rich applications based on various, robust and compiled Arduino Yún sketches. The board offers you the memory and packet storage to enable robust video processing. The platform also offers options to create device applications in Python, Node.js and C programming language.
LinkIt Smart 7688 duo is a co-design product by Seeed Studio and MediaTek. It brings together the parties' knowledge in open hardware and industry leading reference designs for IoT devices to create this powerful development board.
LinkIt Smart 7688 duo is fully supported on the MediaTek Labs site: check out the LinkIt section and register here to download the SDK, participate in the Forums, and more.
FEATURES
580 MHz MIPS CPU
ŸSingle input single output(1T1R) Wi-Fi 802.11 b/g/n (2.4G)
Pin-out for GPIO, I2C, SPI, SPIS, UART, PWM and Ethernet Port
32MB Flash and 128MB DDR2 RAM
USB host
ŸMicro SD slot
ŸSupport for Arduino (ATmega32U4)
SPECIFICATIONS
Category
Feature
Specification
MPU
Chipset
MT7688AN
Core
MIPS24KEc
Clock speed
580MHz
Working voltage
3.3V
MCU
Chipset
ATmega32U4
Core
Atmel AVR
Clock speed
8MHz
Working voltage
3.3V
PCB Size
Dimensions
60.8 x 26 mm
Memory
Flash
32MB
RAM
128MB DDR2
Power Source
USB Power
5V (USB micro-B)
VCC
3.3V (Pin Breakout)
GPIO
Pin Count
3 (MT7688AN)
24 (ATmega32U4)
Voltage
3.3v
PWM
Pin Count
8 (ATmega32U4)
Voltage
3.3v
Max. Resolution
16 bits (customizable)
Maximum Frequency@Resolution
31.25kHz@8-bit, Timer 0 (4 sets)
2MHz@2-bit,122Hz@16-bit, Timer 1 & 3 (4 sets)
187.5kHz@8-bit, 46.875kHz@10-bit, Timer 4 (6 sets)
ADC
Pin Count
12 (ATmega32U4)
Voltage
3.3v
External Interrupts
Pin Count
8 (ATmega32U4)
SPI/SPIS
Set count
1 (ATmega32U4)
Pin numbers
S0, S1, S2, S3
Max. Speed
4 MHz
I2C
Set count
1
Pin numbers
D2, D3
Speed
400K
UART Lite
Set count
1 (ATmega32U4)
1 (MT7688AN)
Pin numbers
P8, P9 (MT7688AN)
D0, D1 (ATmega32U4)
Max. Speed
0.5 Mbps (MT7688AN)
0.5 Mbps (ATmega32U4)
USB Host
Set count
1 (MT7688AN)
Pin numbers
P6, P7
Connector type
Micro-AB
Communication
Wi-Fi
1T1R 802.11 b/g/n (2.4G)
Ethernet
1-port 10/100 FE PHY
Pin numbers
P2, P3, P4, P5
User Storage
SD Card
Micro SD
SDXC
SCHEMATIC DIAGRAM