Productos
Raspberry Pi Model A+ 512MB RAM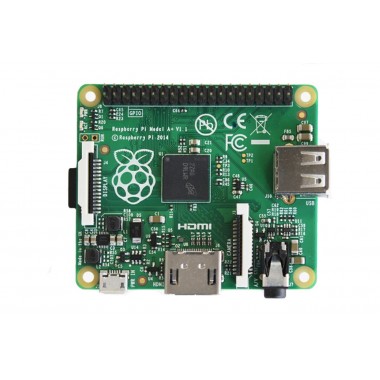 OFERTA! Modelo minimalista de Raspberry Pi, compatible con todos sus sistemas operativos!
COD: D002266
Peso: 0.100 Kg
Disponibilidad: En Stock

ARS 39967.00
El producto no está disponible para la venta en este momento
Características
DESCRIPTION
Note: As of August 10th, 2016 the Raspberry Pi A+ now includes 512 MB of RAM!
The Raspberry Pi Model A+ is the perfect board for the minimalist Pi fan. This low-cost Pi uses the same processor as the model B+, but does away with the Ethernet jack and three of the USB Ports. This makes it lower power, less expensive and much lighter & smaller! It's still compatible with all Pi operating systems and software, and has the exact same 40 pin GPIO connector and camera/display sockets, so any HATs or Pi Plates or other things that plug into the model B+ will work just the same.
It also has the same HDMI, sound/composite connector and microUSB connector for power
Unlike the Raspberry Model B+, there's only one USB port and no ethernet jack but it's also significantly smaller at 65mm x 56mm if you don't include overhang from the connectors.
Don't forget, you'll need a USB power supply with microUSB cable, and a microSD card with a Raspberry Pi OS on it (we suggest a Raspbian 4G card or NooBS 8G card)
Please note some boards are made in the UK, some in China. WE DO NOT KNOW IN ADVANCE WHICH ONES YOU MAY RECEIVE!
TECHNICAL DETAILS
Dimensions: 65mm x 56mm / 2.5" x 2.25"
Processor: ARM 700Mhz CPU
USB: One USB 2.0 Port - Keeping it compact means minifying the footprint as much as possible
Video Output: HDMI and Composite
Sound: L/R Stereo (via 3.5mm 4 Pole Cable)
Memory: 512MB Ram
Operating System: Uses microSD card slot to load O/S
Digital interfaces: 2 onboard ribbon slots for Camera and Display
GPIO: 40 GPIO pins, backwards compatible to B board
No Ethernet jack
Revision history: As of August 10th, 2016 the Raspberry Pi A+ now includes 512 MB of RAM instead of 256 MB of RAM.