Productos
RC522 RFID Module with IC Card S50 Fudan Cards Key Chains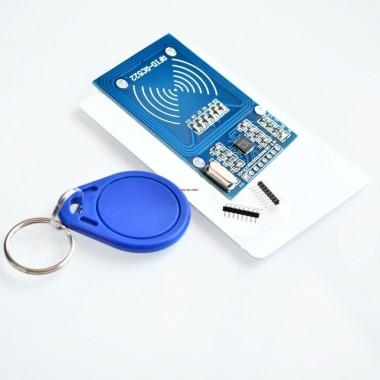 Kit RFID, incluye módulo lector y TAGs llavero y tarjeta.
COD: FUT3492
Peso: 0.019 Kg
Disponibilidad: Sin Stock

ARS 3786.00
El producto no está disponible para la venta en este momento
Características
MF522-AN module uses Philips MFRC522 original chip design circuit card reader, easy to use, low cost, suitable for equipment development, the development of advanced applications reader users, the need for RF card terminal design / production users. This module can be directly loaded into the variety of reader molds.Module uses voltage of 3.3V, simple few lines through the SPI interface directly with any user CPU board is connected to the communication module can guarantee stable and reliable work, reader distance.
Specification:
Module Name: MF522-ED
Working current�?13—26mA/ DC 3.3V
Standby current�?10-13mA/DC 3.3V
sleeping current�?<80uA
peak current�?<30mA
Working frequency�?13.56MHz
Card reading distance �?0�?60mm�?mifare1 card�?
Protocol�?SPI
data communication speed�?Maximum 10Mbit/s
Card types supported�?mifare1 S50�?�mifare1 S70�?�mifare UltraLight�?�mifare Pro�?�mifare Desfire
Dimension�?40mm×60mm
Environment
Working temperature�?-20—80 degree
Storage temperature�?-40—85 degree
Humidity�?relevant humidity 5%—95%
Max SPI speed: 10Mbit/s
Packaging:
RFID-RC522 Module *1
Standard empty RC522 Card *1
RC522 Key *1
Break away pin straight *1
Break away pin 90 degree *1
http://playground.arduino.cc/Learning/MFRC522