Productos
12v 50Wx2+100W TPA3116D2 2.1 HIFI Digital Subwoofer Amplifier Verst board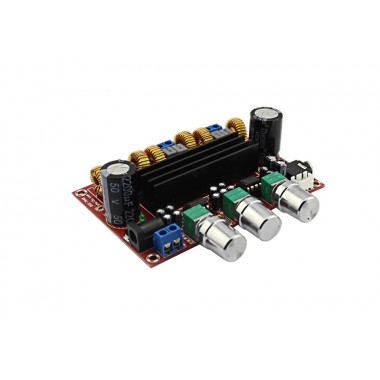 Potente amplificador basado en dos chips amplificadores clase "D" TPA3116D2, de gran eficiencia. Útil en una gran variedad de aplicaciones de sonido.
COD: EACS12238A
Peso: 0.122 Kg
Disponibilidad: Sin Stock

ARS 5117.00
El producto no está disponible para la venta en este momento
Características
The amplifier board with two TPA3116D2 digital amplifier chips is used to drive stereo speakers and efficient digital amplifier power stage for the driving power mono mode is up to 100W / 2Ω. Besides this board shares a wide range of applications like small-miniature components,speakers,docking base, automotive aftermarket, cathode ray tube TV,consumer audio applications and so on. About its core, one is to do a left and right channel power amplifier, and the other is to be bridge driver subwoofer with small size, high efficiency and high power characteristics. With left and right channel output 50WX2, subwoofer output 100W, efficiency can reach above 90%. Moreover you can use switching power supply and laptop is very suitable for battery-powered devices such as motorcycles, cars, electric cars, and so on.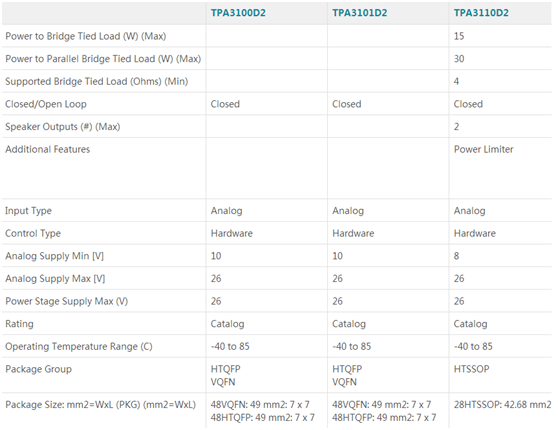 Features
Supports multiple output configurations
Programmable Power Limit
Independently adjustable subwoofer gain
Panel in the middle of the gap can be used to hold the terminal
Excluding external power supply, you can use the notebook power
Using feedback power stage architecture with high PSRR, reducing the demand for PSU
With expensive red ring inductance, not the small power TPA3116 can be compared
Left and right channel full-range output, can drive a 3-16 ohm speakers in the condition of rated voltage 24V
Specifications
Input Type: Analog
Package Group: HTSSOP
Control Type: Hardware
Dimensions: 83X100MM
Operating voltage: DC12-24V
Output power: 50w*2+100w subwoofer*1
Output load : 4-8Ω
Frequency Response: 14-100KHZ
Operating Temperature Range (C): -40 to 85
Channel number: Three(left + right + subwoofer)
Switching frequency: 1.2MHZ
Package list
50Wx2+100W TPA3116D2 HIFI Digital Amplifier Board x1