Productos
FM Stereo Radio Module RDA5807M RRD-102V2.0 Wireless for Arduino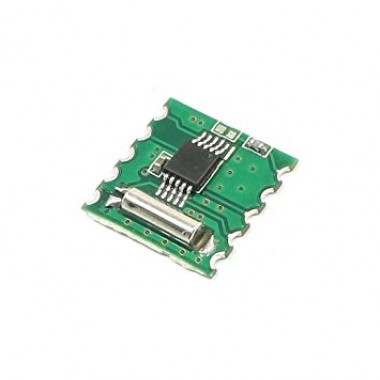 Módulo FM Stereo Inalámbrico muy compacto. Basado en el RDA5807M, el cual ofrece un rango de frecuencia de entre 50MHz y 115MHz. Posee además una muy buena calidad de sonido digital. Puede ser utilizado para armar tu propia radio FM!.Sólo necesita de algunos componentes externos.
COD: UCU0024
Peso: 0.001 Kg
Disponibilidad: En Stock

ARS 1118.00
El producto no está disponible para la venta en este momento
Características
Description:
The RDA5807M series is the newest generation single-chip broadcast FM stereo radio tuner with fully integrated synthesizer, IF selectivity, RDS/RBDS and MPX decoder.
The tuner uses the CMOS process, support multi-interface and require the least external component. All these make it very suitable for portable devices.
The RDA5807M series has a powerful low-IF digital audio processor, this make it have optimum sound quality with varying reception conditions.
The RDA5807M series support frequency range is from 50MHz to 115MHz.
Features:
Low power consumption:Total current consumption lower than 20mA at 3.0V power supply when under normal situation.
Support worldwide frequency band:50 -115 MHz.
Support flexible channel spacing mode:100KHz, 200KHz, 50KHz and 25KHz.
Support RDS/RBDS.
Digital low-IF tuner.
Image-reject down-converter.
High performance A/D converter.
IF selectivity performed internally.
Fully integrated digital frequency synthesizer.
Fully integrated on-chip RF and IF VCO.
Fully integrated on-chip loop filter.
Autonomous search tuning.
Support 32.768KHz crystal oscillator.
Digital auto gain control (AGC).
Digital adaptive noise cancellation.
CMOS single-chip fully-integrated FM tuner.
Mono/stereo switch.
Soft mute.
High cut.
Programmable de-emphasis.
Receive signal strength indicator (RSSI) and SNR.
Bass boost.
Volume control and mute.
Line-level analog output voltage.
32.768 KHz 12M,24M,13M,26M,19.2M,38.4MHz.
Reference clock.
Only support 2-wire bus interface.
Directly support 32Ω resistance loading.
Integrated LDO regulator:1.8 to 3.3 V operation voltage.
MSOP-10pins.
Applications
Cellular handsets.
MP3, MP4 players.
Portable radios.
PDAs, Notebook.
Make your own FM Radio!!!: https://www.youtube.com/watch?v=RqyhvlMKt14
Package Including:
1pcs FM Stereo Radio Module RDA5807M RRD-102V2.0 Wireless for Arduino.