Productos
A20 Mini Dev Board, GSM GPRS WIFI Camera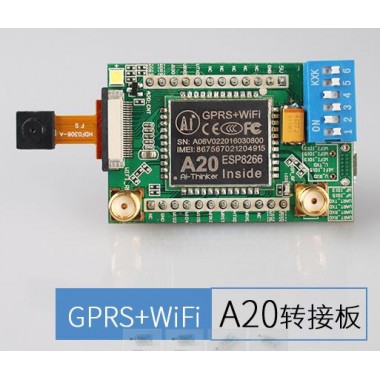 Breakout para el popular módulo A20, que incluye al popular ESP8266. Soporta comunicación GSM/GPRS y Wi-Fi. Incluye dos antenas y una cámara.
COD: TRONWI1108
Peso: 0.010 Kg
Disponibilidad: En Stock

ARS 5357.00
El producto no está disponible para la venta en este momento
Características
Product Description
Breakout board for A20 module
On board two antenna jack.
On board camera jack.
Package includes main board, two antenna and camera.
On board DIP switch to the working mode.
A20 Description
Support GPRS and wifi two main technology, seamless switch in these two.
Based on ESP8266 (or 8285) wifi IC.
Serial UART communication from MCU to A20, or camera data from A2; A20 data transmission via GPRS or wifi to user.
GPRS and Wifi can power alone, and work alone.
Support four working mode, GPRS mode, wifi mode, both mode, wifi control GPRS and camera mode. use esp8266/8285 secondary uart port, this need develop your own program.
Semi-hole technology, through the standard SMT equipment to achieve the rapid production module for customers with high reliability of the connection, especially for automation, large-scale, low-cost modern production methods.
Application:
Outdoor monitoring, agricultural monitoring, industrial monitoring, intelligent home appliances, driving test system, Fingerprint Face Camera Punching machine, video doorbell camera camera lights in many fields.
Can get pictures at the same time, through WiFi or GPRS seamless switch transmission, become the biggest bright spot of its application.
Features:
WiFi + GPRS Combo
Size 22.80 x 19.80mm
Operating temperature -30 ºC to + 80ºC
Operating voltage 3.3V-4.2V
Boot voltage> 3.4V
Power supply: DC 5V 1A
Support GSM / GPRS four frequency bands, including 850, 900, 1800, 1900MHz
Support global GSM network
Support serial port and network communication
Support SMS messages
Support camera, picture compression format: JPEG standard
Image resolution: VGA (640 x 480), QBGA (320 x 40), QQBGA (160 x 120), can be set through the serial port instruction
Support for transmission of pictures, the maximum speed of 16KB / S
Support for external 300,000 pixel camera
GPRS Class 10
Sensitivity <-105
Built-in ESP8285/8266 WiFi chip, support WiFi chip secondary development
Support GPRS data services, the maximum data rate, download 85.6Kbps, upload 42.8Kbps
Support for digital audio and analog audio, support HR, FR, EFR, AMR voice coding
Support ROHS, FCC, CE, CTA certification