Productos
EY-08 BLE Bluetooth 4.0 Uart Transceiver Module CC2541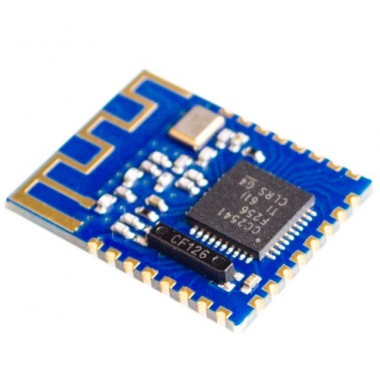 Módulo UART Transceiver BLE Bluetooth 4.0 que funciona como master y como slave, basado en el CC2541.
COD: TRONBL1060
Peso: 0.010 Kg
Disponibilidad: En Stock

ARS 856.00
El producto no está disponible para la venta en este momento
Características
Product Description
EY-08 BLE Bluetooth 4.0 Uart Transceiver Module CC2541, master and slave module. Support iBeacon, data transmission, PWM, IO control, etc modes

Bluetooth mainIC: CC2541

Very competitive price but power functions

EY-08 transparent transmission module is based on the Bluetooth 4.0 protocol standard, the working frequency of 2.4GHZ range, modulation scheme is GFSK, the maximum transmit power of 0db, maximum transmission distance of 80 meters, the use TICC2541 chip design, allowing users to modify the device name through AT commands service UUID, transmit power, pairing password instructions, convenient to use and flexible.
Description:
The new V508 firmware upgrade to support serial
Ultra-low standby power consumption 300 uA
Ultra-long connection distance 80 M
Fast reaction speed 0.4 seconds
For Apple, Android
Receive no byte limit, up to 6K Bytes / sec.
MFI does not need to do
Android 4.3 perfect support.
Functions:
SPP transparent transmission (Support Android, IOS data transparent)
iBeacon mode (support micro-xin shake the protocol with Apple iBeacon protocol)
sensor mode (temperature, humidity, and many other sensor data acquisition applications)
Master/slave transparent mode (data transmission between modules, the host and slave communication)
Host observer mode (application sensor, indoor positioning)
PWM mode (applied to the motor speed, LED light brightness adjustment)
IO mode (applied to mobile phone control relay or LED light off), app and source code avaialble.
Indoor room applications (application of iBeacon data acquisition to achieve the range of positioning)
RTC mode
RTC alarm mode: You can set the RTC alarm time to control the IO port, support two alarm time settings
(Chinese only) Wechat data mode (support AirSync protocol, used in Wechat H5 or factory server communications, including long packet data analysis transceiver) Wechat control mode (motor speed, LED light switch control)