Productos
ESP-WROOM-32, ESP32 WIFI+BT+BLE Module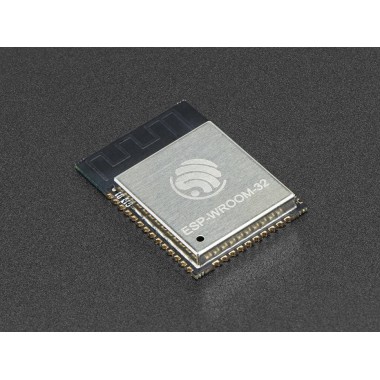 Nueva versión del ESP32. Este modulo combina capacidades para WiFi y Bluetooth con un bajo consumo de energía, lo cual lo hace ideal para aplicaciones IoT.
COD: TRONWI1110
Peso: 0.002 Kg
Disponibilidad: En Stock

ARS 1534.00
El producto no está disponible para la venta en este momento
Características
The ESP8266 started a small revolution by bringing WiFi to a small and cheap package that also had enough processing power and enough pins to get small things done. Now get ready to take your bite-sized WiFi capabilities to the next level with the ESP-WROOM-32 WiFi / Bluetooth Classic / BLE Module!
According to Espressif, the ESP-WROOM-32 is a powerful, generic WiFi-BT-BLE MCU module that targets a wide variety of applications ranging from low-power sensor networks to the most demanding tasks such as voice encoding, music streaming and MP3 decoding.
For advanced users only! This product is just the module - which can be difficult to use. You'll need to solder it onto a board with supporting circuitry. This module is for developers at this time, and is FCC, CE, IC, MIC (Telec), KCC, and NCC certified.
Please note this product is for people who are comfortable compiling via the Tensilica toolchain. There are the beginnings of an Arduino IDE setup, Lua and MicroPython port.
Product Dimensions: 26.0mm x 18.0mm x 3.0mm / 1.0" x 0.7" x 0.1"
Product Weight: 2.0g / 0.1oz