Productos
ESP32-DevKitC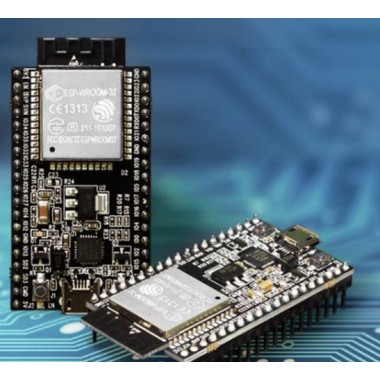 ESP32-DevKitc es una placa de desarrollo basada en el famoso ESP-32 WROOM con conectividad Wi-Fi y Bluetooth. Ideal para proyectos de IoT (Internet of Things). Lista para conectarla por USB y programarla.
COD: TRONWI1100
Peso: 0.002 Kg
Disponibilidad: En Stock

ARS 6972.00
El producto no está disponible para la venta en este momento
Características
Product Description
ESP32-DevKitC is a low-footprint, minimal system development board which is powered by our latest ESP-WROOM-32 module and can be easily adjusted to a breadboard.
Rapid Prototyping – Get right into application design and development without worrying about RF performance and antenna design. The ESP32-DevKitC has your basic system requirements already covered. Just plug in the USB cable and you're good to go!
Flexible and Feature-Rich – The ESP32-DevKitC contains the entire basic support circuitry for the ESP-WROOM-32, including the USB-UART bridge, reset- and boot-mode buttons, LDO regulator and a micro-USB connector. Every important GPIO is available to the developer.
Breadboard-Friendly – The ESP32-DevKitC pinout is optimized for prototyping on a breadboard. The on-board LDO output is led out for powering additional off-board electronics. Peripheral outputs are grouped together for hassle-free prototyping.
Core board based on esp-32 WROOM-32 from espressif too.
Similar to nodemcu board, compact size, on board USB-TTL CP2102, LDO AMS1117, microUSB, flash and reset buttons, etc. Very nice.
Breadboard friendly.
On board marked version V2.
Auto upload bug on windows solution can be found here. Tested up to 10UF can work