Productos
Alligator - Male Jumper Wire 20cm 10 pcs Pack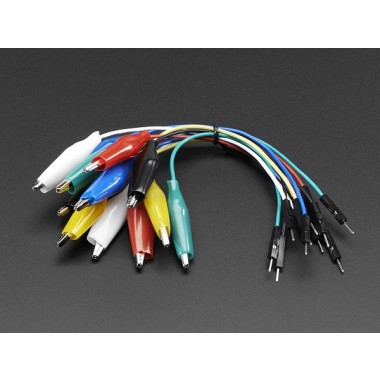 Pack de 10 cables de 20 cm para conexión, de tipo Dupont macho y cocodrilo. Apropiado para experimentación en protoboard.
COD: HTHR0293-30
Peso: 0.050 Kg
Disponibilidad: Sin Stock

ARS 1711.00
El producto no está disponible para la venta en este momento
Características
Product description:
This is our Haitronic exclusive design: 2 in 1 alligator clip to dupont cable male/female kit. It new released on Amazon 2017 for retail, although there are no reviews till now, you can be rest assured to have a try, and if there are any technical /quality problem, just contact us for quick support within 12 hours.

After you tear apart into individual cable, in total 20 unit roots, 5 different color do to multiful DIY electronic connection. Each axis has 20cm length, with 5 colors option(each color has 4 roots), and 2 various Alligotor to F, 2 Alligator to M, very convenient for Arduino/breadboard prototyping / Raspberry pi/ Orange pi/ Makey Makey project or other DIY connection, Maker experiment, engineers LAB testing, as well as can be soldering as you wish(male).
Features:
Color: 5 options, each 4 roots as shown in the pictures.
Material: high-grade pure copper core insde.
Each cable length: 20cm / 8-inch.
Alligator clip comes with 24mm length, with robust bite force.
2 pack, each 10pin jumper wires in one set together.
Including one 10-pin alligator clip to jumper wires male, one 10-pin alligator clip to jumper wires female.
The male ends meant for insertion into standard 0.1 quot;(2.54mm) female sockets and the female ends are meant for insertion into standard 0.1 quot(2.54mm) male headers.
The cables can be separated into single root as you request to do multiple connection and test lead.
Unique design, easy and safe to use.


What's in Package:
1 x 20cm 10-pin Male to Alligator clip.