Productos
Sonoff TH16: Temperature and Humidity Monitoring WiFi Smart Switch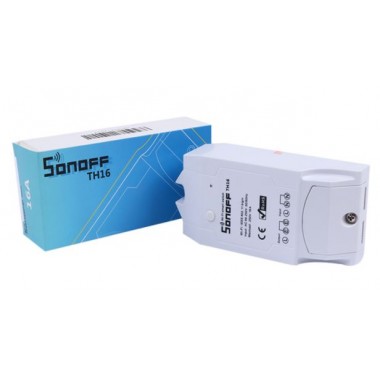 Switch inalambrico Sonoff TH16; capaz de monitorear temperatura y humedad, y controlar la conexión y desconexión de los dispositivos enlazados a este producto a través de reglas que uno crea en relación a la temperatura y humedad presente. Existe una app para Android e IOS para controlarlo remotamente. (No incluye ningun sensor de humedad ni de temperatura, se deben adquirir por separado)
COD: IM160712002
Peso: 0.000 Kg
Disponibilidad: En Stock

ARS 9668.00
El producto no está disponible para la venta en este momento
Características

Overview
Sonoff TH16 is a wireless temperature and humidity monitoring switch which can remote monitor and set temperature and humidity range to turn on/off connected appliances through the iOS/Android APP eWeLink. Just as the name indicates, the Sonoff TH temperature and humidity monitor device supports a maximum current supply specification: 16A.
Sonoff TH16 remote temperature monitor and wireless humidity monitor WiFi switch supports presetting the range for temperature or humidity. When the temperature or humidity of the environment falls within the range, it will automatically turn on or off the connected devices.
Sonoff TH16 supports three kinds of temperature monitor and humidity monitor sensors, mentioned below:
Note: the sensors are not in the package of Sonoff TH16, you can buy them through these links:
With the latest eWeLink app, users can create a series of simple conditional statement (Smart Scene) to trigger on/off other smart devices. This device works perfectly with electric fan, air conditioner, humidifier, smart fish tank, watering system, etc.
We've customized an interface for Sonoff TH16 to easily connect with the sensor-just plug and play. Note that the sensor should be plugged before power up. It is not advised to plug or unplug the sensor in power on state. Furthermore, AM2301 is non-waterproof, while DS18B20 is waterproof.
Works With Amazon Alexa
Supports tracking device status
Supports remote turn on/off connected appliance
Supports presetting temperature and humidity to turn on/off
Supports 8 enabled countdown/single/repeat timing tasks
Support checking real-time temperature and humidity
Support setting smart scene to trigger on/off other smart devices
Works with Alexa
Works with Nest
Specification
Input voltage: 90~ 250V AC
Input current: Max 16A
Power:
3500W(16A)
Supports 3 temperature and humidity sensors (AM2301, DS18B20, DHT11)


ADDITIONAL INFORMATION
| | |
| --- | --- |
| Weight | 85 g |
| Discontinued | No |
| Model | IM160712005 |
| Works With Google Nest | Yes |
| Works With Amazon Alexa | Yes |
| Ewelink Support | Yes |
Link to the app