Productos
ESP32 WIFI/BLE Board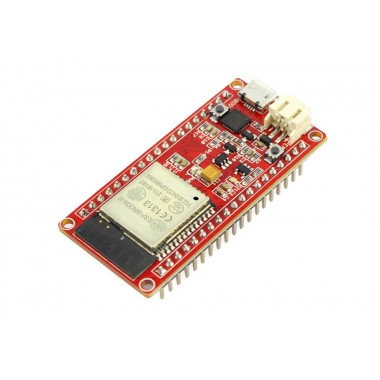 Breakout del popular ESP_WROOM-32 que brinda la posibilidad de conexión tanto Wi-Fi como Bluetooth. Ideal para proyectos de IoT (Internet of Things).
COD: EARS01119B
Peso: 0.015 Kg
Disponibilidad: Sin Stock

ARS 8489.00
El producto no está disponible para la venta en este momento
Características
Description
ESP-WROOM-32 is a powerful, generic Wi-Fi+BT+BLE MCU module that targets a wide variety of applications, ranging from low-power sensor networks to the most demanding tasks, such as voice encoding, music streaming and MP3 decoding. The development board breaks out all the module's pins to 0.1″ headers and provides a CP2102 USB-TTL serial adapter, programming and reset buttons, and a power regulator to supply the ESP32 with a stable 3.3 V. Espressif doubled-down on the CPU resources for the ESP32 with a dual core, running at 160MHz and tons more pins and peripherals. The integration of Bluetooth, Bluetooth LE and Wi-Fi ensures that a wide range of applications can be targeted, and that the module is future proof: using Wi-Fi allows a large physical range and direct connection to the internet through a Wi-Fi router, while using Bluetooth allows the user to conveniently connect to the phone or broadcast low energy beacons for its detection. The sleep current of the ESP32 chip is less than 5 µA, making it suitable for battery powered and wearable electronics applications. ESP-WROOM-32 supports data rates of up to 150 Mbps, and 22 dBm output power at the PA to ensure the widest physical range. As such the chip does offer industry-leading specifications and the best performance for electronic integration, range, power consumption, and connectivity.
Features
Support SD card, UART, SPI, SDIO, I2C, LED PWM, Motor PWM,I2S, I2C, IRUSB-UART
Integrated 802.11 BGN WiFi transceiver and dual-mode Bluetooth (classic and BLE)
Hardware accelerated encryption (AES, SHA2, ECC, RSA-4096)
Integrated LiPo Battery Charger.
10-electrode capacitive touch support
Up to 240MHz clock frequency and 520kB internal SRAM
Support Station/SoftAP/SoftAP+Station/P2P
Support WPA/WPA2/WPA2-Enterprise/WPS
include bridge, reset- and boot-mode buttons, LDO regulator and a micro-USB connector.
Support AES/RSA/ECC/SHA
Specifications
FCC/CE/IC/TELEC/KCC/SRRC/NCC
Wi-Fi : 802.11 b/g/n/e/i (802.11n up to 150 Mbps)
A- MPDU and A-MSDU aggregation and 0.4 _s guard interval support
Frequency range : 2.4 ~ 2.5 GHz
Bluetooth : v4.2 BR/EDR and BLE specification
Radio : NZIF receiver with -98 dBm sensitivity, Class-1, class-2 and class-3 transmitter
Audio : CVSD and SBC
On-board clock : 40 MHz crystal
Operating voltage : 2.2 ~ 3.6V
Operating current : Average: 80 mA
Operating temperature range : -40°C ~ 85°C
Package list
Links: