Productos
Stainless Steel Push Button momentary ring illuminated - BLUE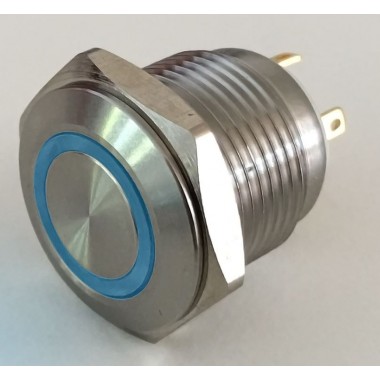 Pulsador metálico plano de tipo momentáneo de 5v, con iluminación led color AZUL y diámetro de rosca: 16 mm. Incluye tuerca y junta. Incluye resistencia limitadora externa de 180 ohms para alimentar el LED de 3 voltios. Para aplicaciones tales como elevadores, dispensadores de boletos, aplicaciones de tipo industrial, etc. Calificado como IP67 (nivel de resistencia al polvo y agua).
COD: DAGQ16F10E-B
Peso: 0.011 Kg
Disponibilidad: Sin Stock

ARS 1505.00
El producto no está disponible para la venta en este momento
Características
Overview:
Model Number:

GQ16F-10E

Panel mounting hole :

16mm

Function:

1NO Momentary

Material:

Stainless Steel

Terminal:

4 pins (two for powering the led, and two for the switch)

Color of LED:

Blue

LED:

With LED.
Description:
Whether with LED

With LED

Operation Type

Momentary

Crust Material

Stainless Steel

Color

Metal

Contact Type

1NO

Maximum Voltage

250VAC

Thermal Current

3A

Minimum Applicable Load

5V AC/DC,1mA

Contact Material

Silver Plated

Terminal Style

.110" Solder/Quick Connect

Operating Temperature

-25°C ~+55°C

Operating Humidity

45%~85% RH

Contact Resistance

50mΩ max.

Insulation Resistance

100mΩ min. (500V DC megger )

Vibration Resistance

10~55HZ, amplitude 1.2mm p-p

Degree of Protection

>10g

Electrical Life

100,000 operations min. (at full rated load)

Mechanical Life

Momentary:1,000,000 operations min.

Dielectrical Life

Switch Unit: 2,000VAC,1 minute between terminals of same pole;

1,000VAC,1minute between contact and lamp terminals.

Illumination Unit:2,000VAC,1min. Between live part/ground

Soldering Temperature

20W/5 seconds or 260 °C/3 seconds