Productos
Arducam ESP8266 UNO Kit with OV2640 Camera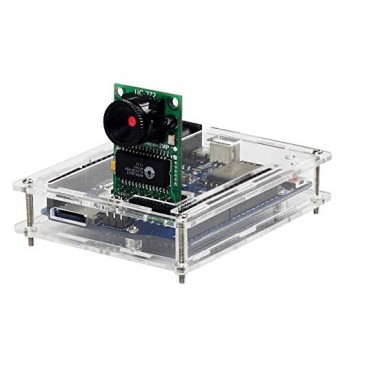 Excelente kit de desarrollo que basado en el ESP8266, que incluye una cámara OV2640. Permite alimentación con una batería de 3.7 v, y posee un slot microSD. Incluye un gabinete de acrílico.
COD: UCB0082_67_89
Peso: 0.100 Kg
Disponibilidad: Sin Stock

ARS 37529.00
El producto no está disponible para la venta en este momento
Características
Product description:
Arducam now released a ESP8266 based Arduino board for Arducam mini camera modules while keeping the same form of factors and pinout as the standard
Arduino UNO R3 board. The high light this ESP8266 board is that it well mates with Arducam mini 2MP and 5MP camera modules, supports Lithium battery power supply and recharging and with build in SD card slot. It can be an ideal solution for home security and IoT camera applications.

Features of ESP8266 UNO:
Build in ESP8266-12E Module .
11 digital input/output pins, IO ports are 3.3V tolerant.
1 analog input(3.2V max input).
Arducam Mini 2MP/5MP camera interface.
Lithium battery recharging 3.7V/500mA max .
Building in SD/TF card socket.
7-12V power jack input.
Build in micro USB-Serial interface.
Compatible with Arduino IDE.
Note that the SD/TF card CS pin is shared with UART TX signal, so the UART and the SD/TF can't be used at the same time.

Features of OV2640 Arducam Mini Module Camera Shield:
Can be used in MCU, Raspberry Pi, ARM, DSP, FPGA platforms.
2 megapixels image sensor OV2640.
M12 mount or CS mount lens holder with changeable lens options.
IR sensitive with proper lens combination.
I2C interface for the sensor configuration,SPI interface for camera commands and data stream.
All IO ports are 5V/3.3V tolerant.
Support JPEG compression mode, single and multiple shoot mode, one time capture multiple read operation, burst read operation, low power mode and etc.
Well mated with standard Arduino boards.
Provide open source code library for Arduino, STM32, Chipkit, Raspberry Pi, BeagleBone Black.
Small form of factor.
Item dimensions: 0.59 x 2.36 x 3.15 inches.
Shipping weight: 0.2 pounds.

Package Including:
1pcs Arducam ESP8266 UNO Board.
1pcs OV2640 Arducam Mini Module Camera Shield.
1pcs Clear Acrylic Case.