Productos
Raspberry Pi Motor Robot Shield Kit (L293D)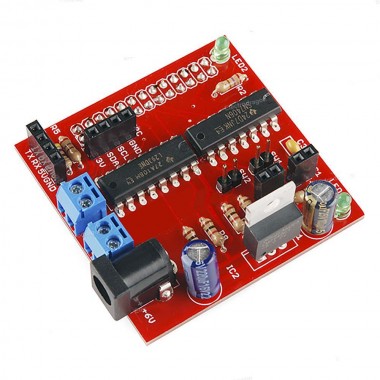 Kit para ensamblar un interesante módulo para control de 2 motores de continua de forma bidireccional. Está pensado para ser conectado a una Raspberry Pi debido a la disponibilidad de pines GPIO. Se alimenta con Tensiones de 7 a 12 voltios.
COD: TROSDR1011
Peso: 0.035 Kg
Disponibilidad: En Stock

ARS 3431.00
El producto no está disponible para la venta en este momento
Características
Description:
Plug the RaspiRobot Board into the GPIO port on the Raspberry Pi and it provides dual bi-directional motor controllers, two open collector outputs, two switch inputs, a pair of status LEDs and even a voltage regulator capable of powering the Pi using a battery source from 7-12VDC.
A Python library module makes it easy to interface with the robot hardware from your software on the Pi. The combination of Raspberry PI and the RaspiRobot Board makes it easier and more affordable than you might think to build a robot with computer vision, web access or even machine learning using the linux operating system and Python code.
Features:
Dual Bi-directional Motor Control
Voltage Regulator powers Raspberry Pi from Batteries (7-12V)
2 x Open collector outputs (25mA)
2 x LEDs
2 x Switch inputs
5V Serial connector
3.3V I2C connector
Simple to use Python library module
Module design for model B