Productos
Stackable 0.100inch Female Header with Extra 0.2inch Spacer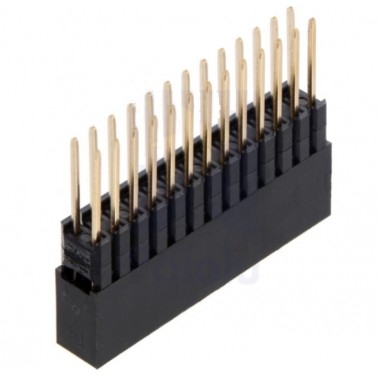 Header de 2x13 pines apilable mediante espaciadores de 0.2 pulgadas. Especial para Raspberry Pi, posee un espaciador adicional que permite evitar el solapamiento con componentes de la Raspberry.
COD: P002747
Peso: 0.004 Kg
Disponibilidad: En Stock

ARS 463.00
El producto no está disponible para la venta en este momento
Características
Description:
This extra-tall stackable 26-pin female header features two rows of 13 pins spaced with a 0.1″ (2.54 mm) pitch. It includes two 0.1″-thick spacers for additional clearance, and the extended pins allow multiple units to be stacked as popularized on Arduino shields. The 2×13 size is notably used on the Raspberry Pi Models A and B, and the extra 0.2″ of height allows for stacked boards to clear most of the tall components on the Raspberry Pi.
This header includes two 0.1″-thick spacers, which gives it the necessary height to clear everything but the tall USB A connectors on the Raspberry Pi Model B. The locations of these spacers can be adjusted if so desired to provide more clearance, or they can be removed to provide less clearance.
The spacers can be adjusted on the Stackable 0.100″ Female Header with Extra 0.2″ Spacer: 2×13-pin, Straight.
Dimensions: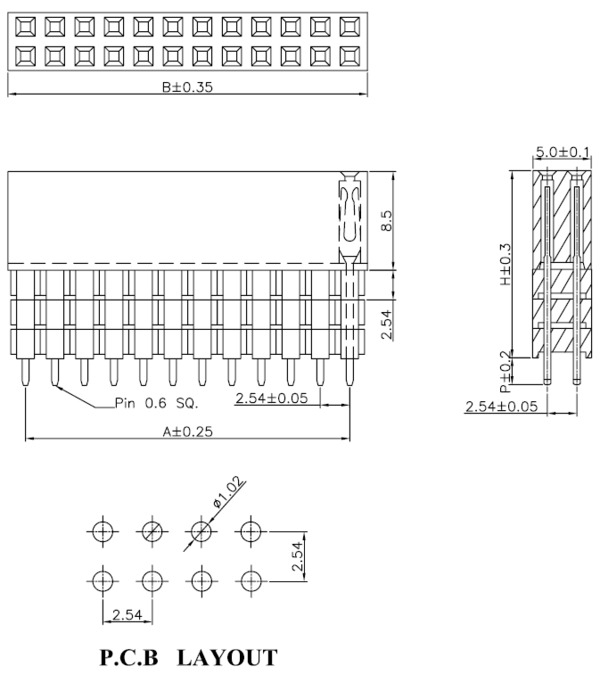 The dimensions in the above diagram are: A = 30.5 mm, B = 33.5 mm, H = 13.5 mm, and P = 9.7 mm.
Dimensions (in mm) of straight stackable 0.100″ female headers with extra spacers.