Productos
ED20 Tracker Board, GSM GPRS GNSS BT3.0 IOT - Board only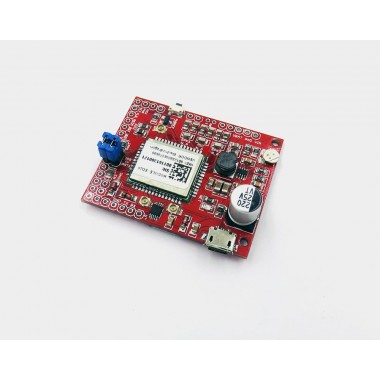 Placa para Rastreo (Tracking) que cuenta con diferentes tecnologías para su uso, entre ellas GSM, GPRS, GNSS, GPS, etc. Posee interfaz UART entre otras. Dispone de contenido descargable, entre ellos Scripts en Python y videos, e información de tipo técnica. No incluye la antena.
COD: TRONGS1063
Peso: 0.050 Kg
Disponibilidad: En Stock

ARS 7871.00
El producto no está disponible para la venta en este momento
Características
Description:
Based on our ED20 module, Support GSM GPRS GNSS, advanced MT2503 tracker technology.
ED20 Based on Mediatek MT2503 solution, some introduction info can see here.
Support power up to track, auto send GNSS (or LBS indoor) data to server by GPRS.
Speedy GNSS tracking, with our setup and next to window, normally position will be fixed in 30~40 seconds, precision is advertised within 10 meters, antenna is a must have.
Support LBS location indoor (precision is about within 100 meters by our test)
Breakout Features:
Please see attached image.
Board size 48*39mm.
Support micro USB debugging via CH340E, 5V logic compliant, support maximum programming speed.
USD debugging and programming.
Power solution: 5V USB power directly, work smooth, good usb cable required.
VIN – On board – MCP2315 DC-DC regulator, support 5-24V via VIN port
! REMOVE 0R to use this, otherwise BURN CH340 USB-TTL IC !
VBAT – 4.2V lithium battery support by module, via VBAT pin.
SPK2 can drive 8ohm speaker, SPK1 and MIC can work with normal microphone or speaker (like normal phone but not loud).
VRTC can backup RTC time, when power down can still store RTC time for a while.
All lead out pins:
UART1: TX RX GND, 5V compliant (V~ is CH340E step-down voltage, not use).
DBG-UART: TX RX GND, 5V compliant.
PCM interface.
GNSS can set to power off by external pin (GNSS_EN to GND).
GNSS UART TX RX (jumper to UART2).
UART2 TX RX (jumper to GNSS UART).
SIM2 interface.
SD card interface.
MCU power key drive by mosfet.
ADC analog read pin.
NANO sim card (smallest card size, you can get a IOT sim card if you use a IOT solution).
SIM reserved ESD IC SMF05, but NOT placed.
Board Tracker firmware.
Default firmware pre-flashed in tracker version.
Code based on standard AT commands.
Breakout board send GPS HEX data to server iot.electrodragon.com once power up, and server read HTTP socket data and generate HTML by python script.
Server Script: Please find this python script in this github page.
All board tested before send, when you receive board, you can try with SN-number to see the last record in our factory, for example:HTML address1 google. map: http://iot.electrodragon.com/gps/g-000161300171.html
HTML address2 gaode.com map : http://iot.electrodragon.com/gps/a-000161300171.html (CN address with map fixed, an issue in China).
Support to send by HTTP RESTful coordination data to thingsboard.io (need to build your own server, script embedded our API number).
SDK can be setup in 5 minutes.
Package includes:
Board only – only main breakout board, you can set your own antenna.
Update and TODOs:
Updated server:
Server is moving to iot2.electrodragon.com, IP address is 167.88.114.101, example tracking link is http://iot2.electrodragon.com/2503/gps/g-170004020710.html.
Test GPIOs:
DTR, RTS, etc all spare pins can support SPI, IIC and GPIOS, examples in wiki page, we will try to implement this.
Updated Board layout:
Slightly update board update for better production, nothing special change or update.