Productos
EB8635 EB8645 Bluetooth BT4.0 Audio Board - EB8635 Breakout Board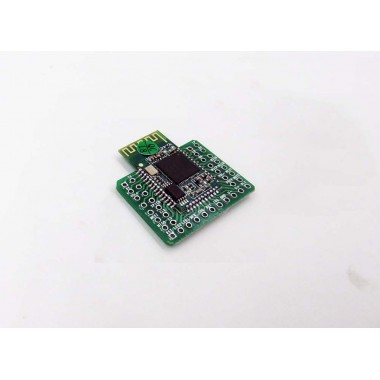 Placa de audio estéreo Bluetooth V4.0 basada en el CSR8635. Posee pulsadores para reproducción de pistas de audio y es posible enlazarla a un celular (control desde el celular), entre otras funciones. Además es posible la conexión de un amplificador de audio externo.
COD: TRONBL1051
Peso: 0.010 Kg
Disponibilidad: En Stock

ARS 3978.00
El producto no está disponible para la venta en este momento
Características
Description:
EX8635 based on CSR8635 IC (green board), Stereo audio, can connect to phone device.
Features:
Model CSR8645/8635.
Bluetooth specification Bluetooth V4.0.
Modulation GFSK, π / 4 DQPSK, 8DPSK.
Supply voltage DC3.3-4.2V, ≤3.0V automatic shutdown, ≤3.2V alarm.
Bluetooth protocol HFPV1.6, A2DPV1.2, AVRCPV1.4, HSPV1.2.
Working current ≤30mA for 8645, ≤13mA for 8635.
Standby current
Temperature range -40ºC ~ + 85ºC.
Wireless transmission range ≤10 meters.
Transmission power support Class1 / Class2 / Class3 maximum adjustable 9dbm for 8645, and 8dbm for 8635.
Sensitivity -80dBm <0.1% BER.
Frequency Range 2.4GHz ~ 2.480GHz.
External Interface USB (USB sound card).
Audio performance supports ACC, MP3, SBC, APT-X decoder.
Audio SNR ≥75dB.
Distortion ≤0.1%.
Module size 26.2x13.5x0.8mm for 8645 and 24.5x14.1x2.0mm for 8635.
Adapter plate size 31x25mm for 8645 and 29x24mm for 8635.
Keys: There are five function keys: PLAY, VOL +, VOL-, PREV, NEXT.
LED: pairing status, dual-lamp flash alternately, paired, single lamp flashes;
USB sound card function (tested, sound pretty good, but note: USB sound card and Bluetooth can not work simultaneously.);
3.2V low power alarm, 3.0V automatic shutdown, (can support AMS1117 power supply);
The maximum charging current is set to 150MA (for 8635), or 250MA (for 8645), light off one led and turn on other one when charging finished.
Stay pairing status when not paired
Can simultaneously connect two phones (the only way: boot automatically chainback last paired phone, the penultimate pairing the phone will need to manually connect);
External amplifier mute pin available. When Bluetooth is muted, after a period of time, output low; when the module is playing, the output high (1.8V).