Productos
CJMCU-9930 APDS-9930 Digital Proximity And Ambient Light Sensor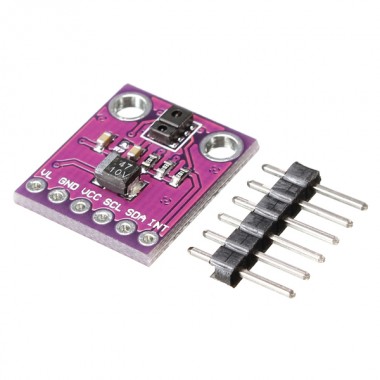 Sensor Digital de proximidad (hasta 100mm) y luz ambiental para Arduino. Funciona mediante interfaz I2C.
COD: HTHS0228
Peso: 0.010 Kg
Disponibilidad: En Stock

ARS 1731.00
El producto no está disponible para la venta en este momento
Características
Features:
• Optical modules integrated with ALS, infrared LEDs and proximity detectors.
• Ambient Light Sensing (ALS):
- Approximate human visual response.
- Programmable interrupt capability with upper and lower thresholds.
- Up to 16-bit resolution:
- High sensitivity operation behind dark glass.
- 0.01lux low lumen performance.
• Proximity detection:
- Fully calibrated to 100 mm detection.
- Integrated infrared LED and synchronous LED driver.
- Eliminates factory calibration of the proximity sensor.
• Programmable wait timer:
- Wait state power consumption - 90μA typical.
- Programmable range from 2.7 ms to more than 8 seconds.
• I2C interface compatible:
- Up to 400kHz (I2C fast mode).
- Dedicated interrupt pin.
• Sleep Mode Power - 2.2μA typical.
• Small package 3.94 (L) x 2.36 (W) x 1.35 (H) mm.

Applications:
• Adjustable light mobile phone backlight.
• Notebook / display security.
• ASutomatically enabled hands-free mode.
• Automatic menu pop up.
• Digital camera eye sensor.

Package included:
1 x APDS-9930 Digital Proximity And Ambient Light Sensor.