Productos
USB to 485 Module FT232 Chip USB to TTL/RS485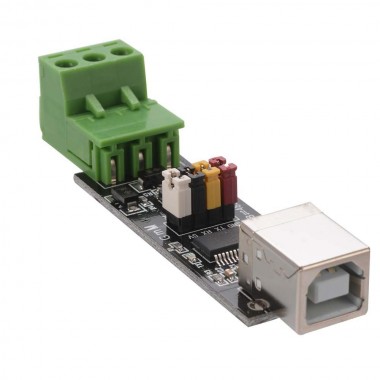 Módulo conversor de USB a RS485. Es posible conectar hasta 32 dispositivos RS485 en topología multipunto.
COD: HTHR0372
Peso: 0.030 Kg
Disponibilidad: En Stock

ARS 1576.00
El producto no está disponible para la venta en este momento
Características
Features:
Standard: USB2.0 standard, backward compatible, meet the RS485 standard
Direction Control: Use the Auto Data Flow Control Technique, auto distinguish and control the transfer direction of data
Baud: 300-9216000bps, automatically detects the data rate of serial signal
Load Capacity: supports one to multipoint, each converter allows to connect up to 32 RS485 interface devices
Interface Protection: TVS tube protection, USB self-recovery protection
Support System: Windows 98/ME/2000/XP/WIN7/Vista, Linux, Mac
Support devices with RS485 interface: surveillance cameras, video capture device, fingerprint attendance machine, PBX, CNC machine, microcontroller, etc.

Package Includes:
1 x USB to TTL/RS485 Serial Converter Adapter FT232RL Module Module.