Productos
miniPCI-E to USB Converter, for 3G, WWAN, WIFI module, w/SIM Slot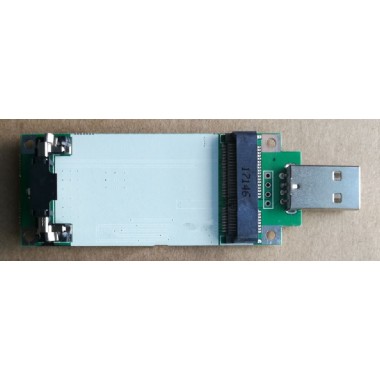 Placa que convierte de mini PCIE a conector USB; soporta una amplia variedad de modúlos 3G y 4G (ver lista en descripción) y tiene un slot en la parte inferior para tarjetas SIM.
COD: TRONGS1075
Peso: 0.040 Kg
Disponibilidad: En Stock

ARS 2104.00
El producto no está disponible para la venta en este momento
Características
Description
A convert board from mini PCIE to USB Connector
Support many types of 3G, 4G modules, please see listed below at end.
SIM slot on backside for use.
When driver installed, can be recorged by OS, tested on windows, can use dailer software to operate.
On module locker on back end, to fully keep module firm inside, but very fragile notice.
Can be installed in machine by screws.
Mini PCI-E52pin interface has USB interface, the convert board also conver 5V to 3.3V for module to use.
Product Size Specifications: 90 * 31mm (including USB port)
Mini PCI-E design meets the 1.30 version of industry standards
USB design in line with the USB 2.0 industry standard, backward compatible with the 1.1 specification
This adapter is suitable for module (USB bus) such as WWAN / 3G / WiFi with full height (30 * 50-51mm)
Working status LED real-time display
A support list of most chinese modules:
Huawei: MU609 PCIE MU709S-2 PCIE MU709S-6 PCIE MU509-B PCIE MC509-A EM770 770J 770W EM820U 820W MU909-521 MU909s-821 MU909S-120 And so on.
ZTE: MF210 MF210V1 MF210V2 AD3812 MC2716 ME3620 ME3630 ME3760 ME3610 and so on.
Long Shang: U8300 U8300W U8300C C5300V U7500E and so on
Domain: CLM920 full range of PCIE modules, CLM920-CN CLM920-CN3 CLM920-EC5
Move away: UC20 full range of PCIE, EC20 full range of PCIE module
SIMCOM: sim7100, sim7600 full range of PCIE module
Support sierrawireless, Telit, cinterion, Ericsson, SAMSUNG, China domain, Datang brands such as 3G 4G card, for the Internet through the USB port and the module Brush, debugging, testing and unlocking.