Productos
Antenna Kit, GSM/GPRS, 2.4G, GPS/GNSS Type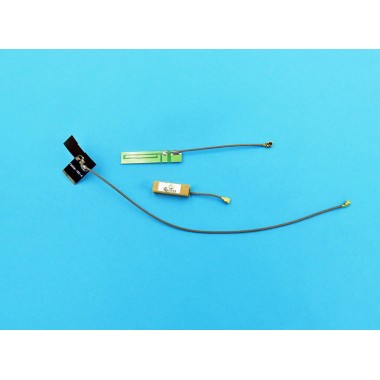 Kit de 3 antenas muy utilizadas en placas GPS/GNSS/GSS, tales como la ED20, SIM808, A9G, etc.
COD: TRONAN1022
Peso: 0.020 Kg
Disponibilidad: En Stock

ARS 2097.00
El producto no está disponible para la venta en este momento
Características
Description:
This is an antenna package for GSM/GPRS, 2.4G Bluetooth, and GPS/GNSS board.
1pcs 1306-type GSM antenna (green):
Frequency: 824~960/1710~1990MHz GSM/GPRS.
Polarization: Linear.
VSWR: <3.0.
Gain: 2dBi.
Impedance: 50Ω.
PCB Dimension: 47*7.6*1.2mm.
Cable: RF1.13/RF1.37.
Connection: IPEX.
Mounting Method: Adhesive.
Standard PCB quality: FR4, 1.6mm, etc.
Cable length is 10CM, see the PCB dimension in attached pictures.
1pcs laptop 2.4G FPC antenna for wifi, bluetooth, etc. (black):
Inner omni soft aerial for laptop wifi bluetooth with standard IPEX interface.

Equipped with 3M adhesive can be installed firmly on the device ensure stable wireless signal performance.

Working Frequency: 2400-2500MHz, S.W.R.:2.0, Gain:4.5dBi(typical), Impedance: 50ohm

Panel Size:42 X 12mm/1.65 X 0.47inch(L*W).

Cable Length: 13cm/0.51inch.
GPS GNSS Ceramic Antenna Build-in, GB165 (Brown):
Model: GPSH165N.
Antenna Size: 6x20x6mm.
Ceramic Size: 6x20x4mm Small size and light weight.
Frequency: 1561mhz / 1575.42mhz.
Fixed way: IPX 1st.
Line length: 2.5cm.
Impedance: 50 ohms.