Productos
SN-390 Adjustable Soldering Auxiliary Clamp Tool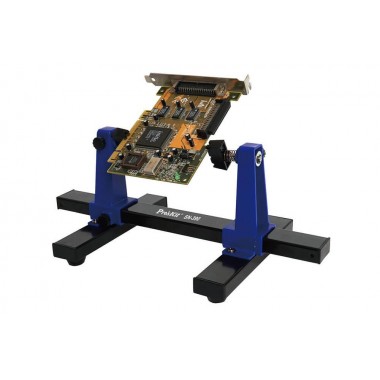 Soporte totalmente ajustable para placas electrónicas. Posee una base metálica, soporte de ABS y pinzas para sujeción. Herramienta infaltable para el diseñador electrónico. Apertura máxima: 200mm.
COD: ECTH45010C
Peso: 0.200 Kg
Disponibilidad: Sin Stock

ARS 3915.00
El producto no está disponible para la venta en este momento
Características
Description:
Adjustable soldering assistant holder is made of metal base and ABS arm, which working principle equates to a rotating worktable.
It also can be rotate by 360 degree, adjusted and fixed any angle. This product has four different thickness holders with 1.2/1.8/2.0/3.0mm, so it has wide application rage from fixing the precision welding to observe the circuit board or fix the other flaky objects. ABS arm can be able to clamp an object with maximum 120mm or maximum size 20x14cm by adjusting nut and sliding the arm. Besides, the metal base is equipped with rubber gasket that has a stability function to the whole bracket.
After the lightening design, it has a lot of advantages such as strong and durable, easy to carry and take in, easy-operating and firm etc. I believe that can make you work more efficiently.
Features:
Strong and durable with the metal base.
Lightening design,easy to carry and take in.
Have 4 different thickness holders.
Can be adjusted(rotate by 360 degree).
Specifications:
Material: ABS arm + metal base.
Maximum circuit board size: 20 x 14cm.
Clamping the thickness of circuit board: 1.2/1.8/2.0/3.0mm.
Dimensions: 30 x 16.5 x 12.5cm.
Weight: 450g.