Productos
I2C Interface For LCD 1602A 2004A Display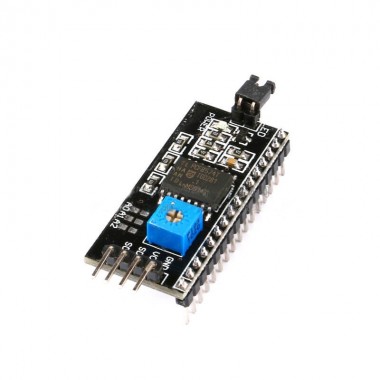 Adaptador I2C compatible con displays LCD 1602A, y 2004A. Permite reducir a 2 el número de líneas para enviar información al display desde un Arduino.
COD: EDLC06002B
Peso: 0.015 Kg
Disponibilidad: Sin Stock

ARS 966.00
El producto no está disponible para la venta en este momento
Características
Description:
There are only 20 IO ports in Arduino control boards, if we add some sensors, SD card, relay module and so on, IO port will not be enough. Image when you want to drive the LCD 1602 but without enough IO ports, how terrible? You can save 5 IO ports with this module, and it is compatible with Arduino.
Features:
Compatible with Arduino 4 line control module.
You can use the Arduino official Library forectly.
With backlights and contrast regulator potentiometers.
Support I2C protocol.
Dimension: 23 x 41 mm.
Charging voltage: 5v.
Interfaces:
GND: GND.
VCC: +5V.
SDA: IIC data.
SCL: IIC clock.
Package list:
LCD 1602/ 2004A Display I2C/ IIC Keysets Compatible with Arduino x 1.