Productos
125Khz RFID Long Distance Module, 40CM, Serial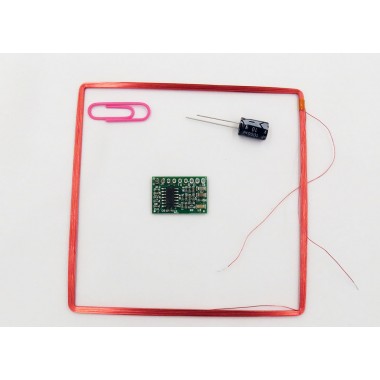 Módulo lector de tarjetas RFID de largo alcance (máximo 40 cm). Soporta tarjetas de control de acceso de tipo estándar de 125KHz (protocolo de comunicación Wiegand 26): EM4100, 4001, TK4100, EM4305, etc. Posee intefaz Serie para ser utilizado con Arduino. Incluye capacitor de filtrado y antena de 97mm.
COD: TRONID1020
Peso: 0.030 Kg
Disponibilidad: Sin Stock

ARS 3563.00
El producto no está disponible para la venta en este momento
Características
Description:
Reading distance is far.
Strong decoding capability.
Low power consumption.
Industrial grade, long continuous card reader performance is stable and reliable.
Support standard access control standard – 26 bit Wiegand.
Range:
Built-in CPU decoding, direct serial port 9600 baud TTL level output card number, can also choose Wiegan 26 output card number, the use of very simple.
Comes with buzzer, indicator output pin. Direct read when power up.
Module size 16 * 24MM, the volume is very small, the antenna can be any match (to support their own winding).
The module uses a common 2.54mm pitch pin, can be easily embedded in various systems.
Wide voltage supply 3.5V to 6V, current about 25mA.
Well tested, mature product.
Test the EM standard thick card (Support EM4100, 4001, TK4100, EM4305, etc. 125K RF card card serial number.).

Diameter 45mm coil can reach 25CM reader distance!
Use the 97mm coil to reach 40CM!
Support read through door/wall, etc

Notice demo video shows the best ideal setup, different setup can not get the same good result.
| | | | |
| --- | --- | --- | --- |
| card type | use 45mm Dia. antenna | use 97x97mm rectangular antenna | |
| "nail" pin card | 11 cm | 14 cm | |
| Dia. 2.5CM card | 13 cm | 20 cm | |
| Dia. 3CM card | 16 cm | 24 cm | |
| normal card | 18 cm | 25 cm | |
| thick card | 25 cm | 41 cm | |
Usage:
To use with arduino, only need to connect module serial TX pin arduino serial RX pin, which is arduino D0 pin, also common ground.
Package includes:
main PCB board
one filter capacitor
97mm size antenna
and one test-proof card, which can make sure reach 40cm.
Demo video please see on this page.