Productos
ESP32-LyraT Audio Development Board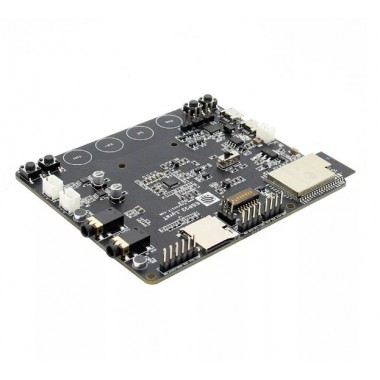 Desarrolla aplicaciones de audio con ésta potente y completa placa basada en el ESP32. Integra funciones de reconocimiento de voz, conectividad Wifi y Bluetooth, haciéndola muy atractiva para proyectos de IoT (Internet de las cosas). Posee interfaz USB, pulsadores táctiles, cargador de baterías, micrófonos integrados, slot micro SD y más!. Compatible con ADF (Audio Development Framework).
COD: TRONWI1180
Peso: 0.050 Kg
Disponibilidad: Sin Stock

ARS 5343.00
El producto no está disponible para la venta en este momento
Características
Description:
The ESP32-LyraT V4.2 is an audio development board built around ESP32. It is intended for audio applications, by providing hardware for audio processing and additional RAM on top of what is already onboard of the ESP32 chip. The specific hardware includes:
ESP32-WROVER Module.
Audio Codec Chip ES8388.
Dual Microphones on board.
Headphone input.
2 x 3-watt Speaker output MIX3006.
Dual Auxiliary Input.
MicroSD Card slot (1 line or 4 lines).
6 buttons (2 physical buttons and 4 touch buttons).
JTAG header.
Integrated USB-UART Bridge Chip CP2102N.
Li-ion Battery-Charge Management.
Key Supported Features:
A variety of mainstream, both lossy and lossless, compressed audio formats, including M4A, AAC, FLAC, OGG, OPUS, MP3, etc.
One-key configuration and wake-up from the standby mode.
SoftAP and Station mode. • Various wireless protocols:Wi-Fi 802.11b/g/n, Classic BT and BLE.
A series of audio inputs, including Wi-Fi, BT-audio, DLNA, Line-in, etc.
BLE network configuration, and smart network configuration such as WeChat.
Two microphones for the development of near-field and far-field voice recognition applications.
Peripherals for differentiated demands.
IMPORTANT! If you are connecting a battery to the board, double-check the polarity of the BAT connector - it is reversed compared to typical battery connectors! Either swap the + and - of your battery or pull the connector's plastic up and put it back in reverse! Connecting a standard Li-Po battery without this precaution would damage the battery charger of the board!
Software: