Productos
ESP-WROOM-32 ESP32 WIFI+BT+BLE Module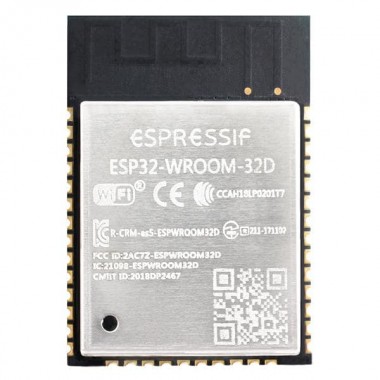 Versión superior del ESP-WROOM-32 que añade mejoras en la parte de RF. Éste modulo combina capacidades para WiFi y Bluetooth con un bajo consumo de energía, lo cual lo hace ideal para aplicaciones IoT.
COD: TRONWI1155
Peso: 0.010 Kg
Disponibilidad: Sin Stock

ARS 1961.00
El producto no está disponible para la venta en este momento
Características
Description:
The ESP-WROOM-32 is a powerful, generic WiFi-BT-BLE MCU module that targets a wide variety of applications ranging from low-power sensor networks to the most demanding tasks such as voice encoding, music streaming and MP3 decoding.
Based on ESP32 IC, WROOM-32 from espressif.
Fair price and enough stock directly from espressif now.
Brief Features ESP32:
WiFi / Bluetooth Classic / BLE Module
Dual-core 240MHZ CPU, computing capalibity up to 600DMIPS (STM32F407 is 168MHz)
SRAM 520K, High speed can run FREERTOS, UCOSII, such system, decoding audio or video
Many types interpreters supported: Arduino IDE setup, Lua and MicroPython port, basic C code, etc. See more information on esp32.net.
Board size 25.2mm x 18mm, on board esp32 Soc, flash, other parts and on board antenna.
Grouped output gpio pins, ease usability.
Open source schematicc and layout for use, please check out documentation.
FCC-US, CE-EU, IC-CA, TELEC-JP, SRRC and KCC-KR certificate, four layer PCB, working temperature -40°C – 85°C, suitable for commerial development.
About Version:
ESP-WROOM-32D and ESP-WROOM-32U is new version, better RF performance.
Custom Flash Version:
ESP-WROOM-32D (4MB Default)
More information:
All avaialble ESP32 ICs, Modules (WROOM-32, ESP32-WROVER, etc), Development Board(ESP32-devkitc, esp32-wrover-kit, etc) see on this page.