Productos
SPP-C Bluetooth Module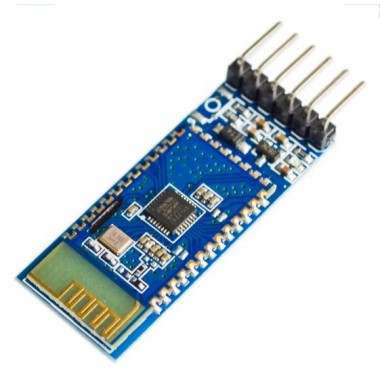 Módulo Bluetooth SPP-C. Integra, a diferencia de su antecesor (HC-05), Bluetooth 2.1 + EDR.
COD: HTHR0109A
Peso: 0.005 Kg
Disponibilidad: En Stock

ARS 1103.00
El producto no está disponible para la venta en este momento
Características
Description:
SPP-C Bluetooth module is designed for intelligent wireless data transmission and create follow V2.1 + EDR Bluetooth specification. The module supports UART interface, and supports Bluetooth SPP serial protocol, low cost, small size, low power consumption, send and receive sensitivity advantages, with only a few external components will be able to achieve its powerful features.
Features:
Bluetooth V2.1 + EDR
Bluetooth Class 2
Built-in PCB antenna RF
Support UART interface.
3.3V power supply.
Application:
This module is mainly used for wireless transmission of data in the field a short distance. And PC can be easily connected Bluetooth device, it can also exchange data between the two modules. Avoid cumbersome cable connections, can directly replace the serial cable.
Bluetooth wireless data transmission.
Remote control and monitoring.
POS systems, wireless keyboard, mouse.
Transportation, underground location, alarm.
Automated data acquisition system.
Wireless data transmission.
Wireless data collection.
Building automation, security, wireless monitoring and control room equipment, access control systems.
Smart home, industrial control.
Automotive testing equipment.
Interactive television program voting equipment.
Government energy saving lamps equipment.
Wireless LED display systems.
Bluetooth joystick, Bluetooth gamepad.
Bluetooth Printer Bluetooth remote control toys Automotive diagnostic OBDII.