Productos
NB-IoT Soil Moisture & EC Sensor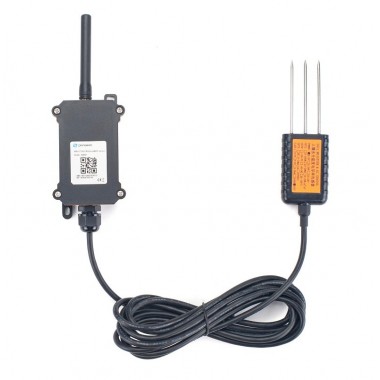 Sensor NSE01 NB-IoT diseñado para aplicaciones Agrícolas. Detecta la humedad, temperatura y conductividad del suelo, permitiendo enviar toda la información capturada a través de la red NB-IoT.
COD: DRANSE01
Peso: 0.050 Kg
Disponibilidad: Sin Stock

ARS 60926.00
El producto no está disponible para la venta en este momento
Características
The Dragino NSE01 is a NB-IoT Soil Moisture & EC Sensor designed for IoT of Agriculture. It detects Soil Moisture, Soil Temperature and Soil Conductivity, and upload the value via wireless to IoT Server via NB-IoT Network.

NarrowBand-Internet of Things (NB-IoT) is a standards-based low power wide area (LPWA) technology developed to enable a wide range of new IoT devices and services. NB-IoT significantly improves the power consumption of user devices, system capacity and spectrum efficiency, especially in deep coverage.

NSE01 supports different uplink methods include TCP, MQTT, UDP and CoAP for different application requirement.

NES01 is powered by 8500mAh Li-SOCI2 battery, It is designed for long term use up to 5 years. (Actually Battery life depends on the use environment, update period & uplink method)

To use NSE01, user needs to check if there is NB-IoT coverage in local area and with the bands NSE01 supports. If the local operate support it, user needs to get a NB-IoT SIM card from local operator and install NSE01 to get NB-IoT network connection.
Features:
NB-IoT Sensor Node
Monitor Soil Temperature
Monitor Soil Moisture
Monitor Soil Conductivity
Temperature Compensation for measurements
Ultro low power consumption
NB Bands: B1/B3/B8/B5/B20/B28
Uplink via MQTT,TCP,CoAP or UDP
AT Commands to change parameters
IP66 Waterproof Enclosure
Uplink on periodically
8500mAh battery
Applications:
Documents:
https://www.dragino.com/downloads/index.php?dir=NB-IoT/NSE01/