Productos
Freedom Freescale Kinetis KL05Z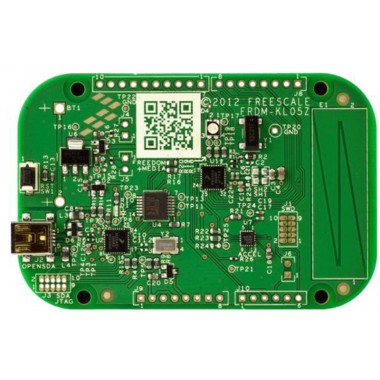 Plataforma de bajo costo Freedom Freescale basada en un core 32-bit ARM Cortex-M0+
COD: N53W2646
Peso: 0.070 Kg
Disponibilidad: En Stock

ARS 12807.00
El producto no está disponible para la venta en este momento
Características
Introduction
This is the new Freescale Freedom Development Platform for the Kinetis® KL0 MCUs. This platform is a small, low-power, cost-efficient evaluation and development system for quick application prototyping and demonstration based on the Kinetis L series, the industry's first microcontrollers built on the ARM Cortex-M0+ processor. The development platform combines an industry-standard form factor with a rich set of third-party expansion board options. Using this platform to speed development, applications such as small appliances, gaming accessories, portable medical systems, audio systems, smart meters, lighting and power control, can now leverage 32-bit capabilities and the scalability needed to expand future product lines, all at 8- and 16-bit price and power consumption levels.
The Kinetis KL0 family is the entry point into the Kinetis L Series MCUs based on the ARM® Cortex™-M0+ processor. Pin compatible with our 8-bit S08P family, the Kinetis KL0 family provides a bridge for 8-bit customers migrating into the Kinetis portfolio and is software and tool compatible with all other Kinetis L families.
Devices start from 8 KB of flash in a small-footprint 4 x 4 mm 24 QFN package extending up to 32 KB in a 48 LQFP package. Each combines ultra-low-power performance with a rich suite of analog, communication, timing and control peripherals.
Kinetis L Series Features:
ARMCortex-M0+– the world's most energy-efficient processor. More than 2x CoreMark/mA performance of closest 8/16-bit competitor and 30% less power thanCortex-M0.
Low Power MCU Architecture -Low power 90nm TFS flash technology, clock and power gating, highly efficient platform featuring a bit manipulation engine, peripheral bridge crossbar and zero wait state flash memory controller.
Energy-Saving Peripherals -Smart peripherals function in deep sleep modes and can make intelligent decisions and process data without waking up the core – ADMA, UART, Timers, ADC, Segment LCD, Touch Sensing.
Ultra-Low Power Modes -Flexible RUN/WAIT/STOP modes with fast wake-up – optimize power use to suit application needs.
Main Features
The Key Features of the FRDM-KL05Z Freedom Board are:
MKL05Z32VFM4 in an 32 QFN package
Capacitive touch slider
MMA8451Q accelerometer
Tri-color (RGB) LED
Flexible power supply options – OpenSDA USB, coin cell battery, external source
Battery-ready, power-measurement access points
Easy access to MCU I/O via Arduino ™ R3 compatible I/O connectors
Programmable OpenSDA debug interface with multiple applications available including:

Mass storage device flash programming interface
P&E Debug interface provides run-control debugging and compatibility with IDE tools
CMSIS-DAP interface: new ARM standard for embedded debug interface
Data logging application
The target microcontroller of the FRDM-KL05Z is the KL05Z32VFM4, a Kinetis L series device in a 32QFN package. The KL05Z MCU features include:
32-bit ARM Cortex-M0+ core

up to 48 MHz operation
Single-cycle fast I/O access port

Memories
System integration

Power management and mode controllers
Low-leakage wakeup unit
Bit manipulation engine for read-modify-write peripheral operations
Direct memory access (DMA) controller
Computer operating properly (COP) Watchdog timer

Clocks

Clock generation module with FLL and PLL for system and CPU clock generation
4 MHz and 32 kHz internal reference clock
System oscillator supporting external crystal or resonator
Low-power 1kHz RC oscillator for RTC and COP watchdog
Analog peripherals

One 14-channel 12-bit SAR ADC w/ DMA support
12-bit DAC w/ DMA support
High speed comparator

Communication peripherals

One 8-bit Serial Peripheral Interfaces (SPI)
One I2C modules
One low-power UART

Timers

One 6-channel Timer/PWM module
One 2-channel Timer/PWM modules
2-channel Periodic Interrupt Timer (PIT)
Real time clock (RTC)
Low-power Timer (LPT)
System tick timer

Human-Machine Interfaces (HMI)

General purpose input/output controller
One 8-channel capacitive touch sense input interface hardware module
For more information: http://www.element14.com/community/docs/DOC-51558?ICID=knode_freedompage