Productos
Mechanical Endstop Collision Switch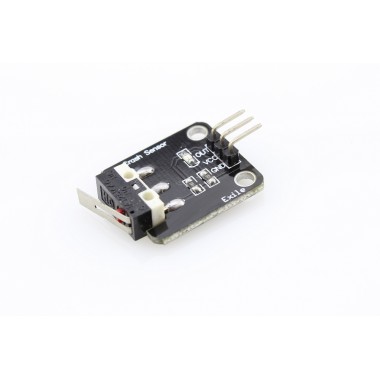 Switch final de carrera para sensado de toque o colisión. En estado normal (sin activación) su salida es VCC.
COD: ESE63009CS
Peso: 0.008 Kg
Disponibilidad: En Stock

ARS 485.00
El producto no está disponible para la venta en este momento
Características
This is a Robot, model car helicopter crash or collision switch sensor module For Arduino, it normally outputs high voltage, but when the sensor is carsh something such as the wall, the on-board switch will be pressed, and the module outputs low. This module can be installed into any mobile platform to achieve collision detection function via 3P sensor cable and Arduino sensor expansion board connector.
Specification
Forefront of a switch module is installed there is a collision, the module output low, there is no collision, the output high.
module aside M3 mounting holes to facilitate fixed in a small car.
Module size: 2.5cm * 1.9cm
lights with a switch, there is a collision, lights, no collision, lights out.
Pin Description
1 ---VCC 3v-12v power supply
2---GND connected to power ground
3---OUT output high and low