Productos
Blend Micro - an Arduino Development Board with BLE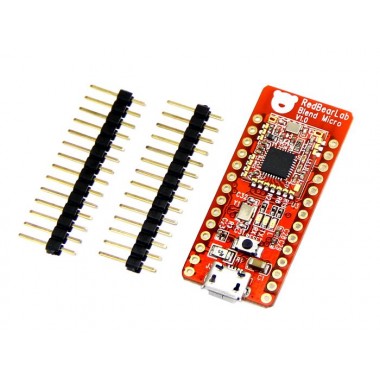 Módulo compatible Arduino (ATmega32u4) con comunicación Bluetooth integrada (BLE).
COD: SE830090001
Peso: 0.010 Kg
Disponibilidad: En Stock

ARS 34704.00
El producto no está disponible para la venta en este momento
Características
Blend Micro is our first integrated developement board, we have "blend"ed Arduino with Bluetooth 4.0 Low Energy (aka BLE or Bluetooth Smart) into a single board. It is targeted for makers to develop low power Internet-Of-Things (IoT) projects quickly and easily.
The micro-controller unit (MCU) is Atmel
ATmega32u4
and the BLE chip is
Nordic nRF8001
. Blend Micro runs as BLE peripheral role only, it allows BLE central role devices to establish connection with.
Current supported BLE central devices:
iOS 7
iPhone 4s
iPhone 5 (all models)
iPod touch 5
iPad 3/4/mini/Air
Android 4.3 or above (4.4 recommended for stability) with Bluetooth 4.0 hardware support
Nexus 4
Nexus 7
(please report any other Android devices supported)
Windows 8.1 with built-in Bluetooth 4.0 or USB dongle
Mac OSX 10.9.2 with built-in Bluetooth 4.0 or USB dongle
Linux with BlueZ 5.1 with built-in Bluetooth 4.0 or USB dongle
Features
Technical Specification
Microcontroller
Atmel ATmega32u4
Wireless Chip
Nordic nRF8001
Operating Voltage
3.3V
Input Voltage

5V (USB)

3.3-12V (VIN)

Note: Use either one power source at a time.

Clock Speed
8MHz
Connectivity

Bluetooth 4.0 Low Energy

micro-USB

Serial (TX/RX)

I2C

SPI

Flash Memory
32KB (of which 4 KB used by bootloader)
SRAM
2.5KB
EEPROM
1KB
Dimensions
43.6 x 18.4 x 4.3mm (83 x 58 x 25mm with packaging)
Weight
4g (19g with packaging)
Power Consumption
2mA (average - using Interrupt mode)
I/O Pins
24
Document